Dogs are believed to be quite intelligent. They can assist disabled people, work with law enforcements and sniff out the bombs, and most importantly they provide us with true companionship.
But would you have ever thought that they could also drive a car? The New Zealanders took on the challenge and for a good cause, to increase the adoption of orphaned pups by changing the public's common misconceptions about them.
The New Zealand's Society for the Prevention of Cruelty to Animals (SPCA) got three dogs involved in their experiment: Monty (an 18 month old giant schnauzer), Porter (a 10 month old beardie cross) and Ginny (a 1 year old beardie whippet cross). All three of them were rescued by the SPCA in Auckland, New Zeland.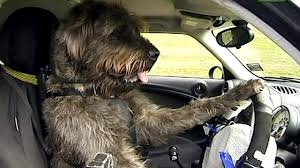 First, the dogs were trained to steer a wooden cart in the indoor test lab, which was pulled along on a string by their trainers.
After just 8 weeks of training, the dogs were ready to get behind the wheel of a real car – a modified Mini.
The modifications included extension levers attached to the brakes and accelerator, and relocation of the gearstick so the dog's paws can easier access them.
Their first drive in the car the dogs had an instructor accompanying them in the passenger seat. The instructor was helping the dogs by monitoring them and giving verbal commands.
Then the dogs and the Mini were taken to a real track. This time they were maneuvering the vehicle on their own with the trainer just following beside the car.
To prevent the dogs from just speeding off, the speed limiter was restricted to walking pace.
Monty was the first up to go down the track and is now the first claimed dog driver in the world.
"He's started the key, put the paw on the brake to allow it to go into gear, put it into drive, paw on the steering wheel, accelerator on, and off he goes down the track."
For Porter the instructors decided to make it trickier. He had to maneuver the car around one of the racetrack's bends, which he did fairly well, though at one point he did run off the track onto grass. But still, for a dog that's tremendous success.
The idea of this charity experiment was to prove how intelligent the shelter dogs are, as there are some misconceptions about rescue dogs.
"I think sometimes people think because they're getting an animal that's been abandoned that somehow it's a second-class animal," said SPCA Auckland CEO Christine Kalin.
These three dogs have achieved amazing results and have learned what no other dogs have done before. SPCA has achieved in showing the public that shelter dogs have a lot of potential as adopted family pets as they can also be trained and taught new tricks.
Check out the video to see how the first ever dog driver managed the task.