Iceland is a small volcanic island near the Arctic circle. It's about a 40,000 square-mile island with a diverse geology and fascinating culture. The natural beauty of Iceland is unparalleled with glaciers, hot springs, live volcanoes, beaches, water falls, caves and mountains all within an explorer's reach.
The population of Iceland is upwards of 320,000 people, and the majority of people live near the capital city of Reykjavik. This town is a thriving metropolis with museums, restaurants, bars and nightclubs.
Icelandic tourism offers a true cultural delight within miles of rugged adventures. The people of Iceland are thought to be descendants of Norse explorers who settled on the island around 800 AD.
During the summer Iceland can have 16 hours of daylight. In the middle of winter there can be 20 hours of darkness. If it is a very dark clear night, you may get lucky and even get a glimpse of the colorful Aurora Borealis.
The country is dotted with fishing villages, quaint little houses, rustic farms, and natural wonders. Another wonderful thing about Iceland is that elves live there. According to various Icelandic elf surveys at least a quarter of the population believes in elves.
An even larger percentage of Icelanders may not admit to believing in them, but they are still aware of the possible presence. It's kind of difficult to deny the existence of Icelandic elves with all of the following evidence.
10. Elves Have Their Own Houses
If Iceland didn't have elves, why would they have elf houses. You can find these familiar little homes all over the country, especially in rural areas.
9. Elves Have Their Own Gardens
If you visit Iceland in the summer, you may want to visit the elf garden. This garden is a center for elves and huldufolk located in Hellisgerai Park. This is a lava park located 15 minutes from Reykjavik. You can purchase elf art and crafts at the gardens or book an elf walking tour with elf expert Ragnhildur Jónsdóttir.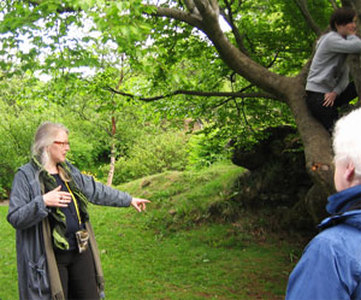 8. Elves Have Their Own Church
Elves like to live among the rocks. This is one reason volcanic Iceland is such a fertile ground for the ancient beings. Among the lava fields of Gálgahraun is a unique pile of rocks that is actually an elf church. Local believers felt this area was so sacred that they banded together to halt construction of a road that would destroy the church. See number 6.
7. There's An Elf School
In Iceland it is known as Álfaskólinn this school teaches students about Icelandic folklore. Specifically, the hidden people and the 13 different types of elves that inhabit Iceland. If you venture to the east side of Reykjavik you may stumble upon the elf school ran by Magnus Skarphedinsson.
Elves appeared in Iceland's ancient texts, because of the isolation of the country the Icelandic language is so pure that these tales still read like a present day article. These old tales mixed with present day elf encounters, fuel the need for elfin study.
Some things you will learn in elf school include the differences between the 13 kinds of elves, 4 kinds of gnome, 2 types of troll and three types of fairy. These are sometimes called the hidden people, but technically the Hidden People are a different group altogether.
The Hidden People look like regular people, but they dress differently. Elves and Hidden People can be visible or invisible and can communicate with language or other actions. They can borrow or hide items, create rock slides, and appear in dreams to give humans messages or warnings.
It's best not to cross these folk or they may exact their revenge. Many people abide by these words according to the elf houses dotting the landscape.
6. Elves Were Able To Block Construction of A Road
"Issues have been settled by delaying the construction project at a certain point while the elves living there have supposedly moved on."
That is the standard response that Iceland's road and coastal commission have come up with to reply to issues that may affect elf habitat. A large highway project planned to connect the Alftanes peninsula with Gardabaer just outside Reykjvik has been postponed because of environmental complaints combined with the possibility of destroying an elf church.
We know that elves love the lava fields of Iceland. There is also an environmental group called Friends of Lava that also loves the lava fields. Together, Friends of Lava and elf activists have joined forces to successfully halt the freeway construction.
The supreme court of Iceland is working on deciding the fate of the freeway, the lava field, and the elf church. One small victory for the elf activists is that even if the freeway once again gets the green light, the elves will have already had time to move on and create a new church.
5. Elf Art Is Extremely Popular
If you visit number 9 above you will notice that the elf garden also has an elf art center. Here you can find artists who create elf art and other elfin crafts.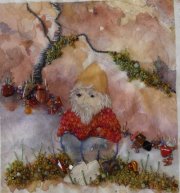 4. There Is An Elf Festival
The little elf festival is a great way to enjoy your day and pay tribute to the magical beings. You can watch the program complete with music and comedy and just spend a special day paying tribute to all things elf.
3. Elves Have Their Own Museum
Since elves are one of the wonders in Iceland, you can learn about them at the Icelandic Wonders Museum. Along with viewing the northern lights and learning about trolls, ghosts and the yuletide lads.
2. Elves Celebrate Holidays
The Yuletide Lads are 13 elves who bring gifts on the last 13 nights of Christmas. One lad for each night. Apparently, there was also a yuletide cat who ate children who didn't receive clothes for Christmas. Leaving Icelandic children to decide which is worse? Getting clothes for Christmas or being eaten by a cat.
1. Elves Have Their Own Music
This one is self-explanatory, but just so you know this ex-sugarcube star produces music that goes from ethereal to snarling screams. When Bjork was asked if she believed in elves this is what she had to say.
"We do," she said. "It's sort of a relationship with nature, like with the rocks. (The elves) all live in the rocks, so you have to. It's all about respect, you know."