We all travel to see the world and experience other cultures, however, there is one thing that we can't help ourselves with when we go on holidays – shopping!
Some people see the expensive part of a holiday is getting to the destination and therefore there isn't much leftover spending money for shopping, but here we will talk about the top 10 destinations that will leave you wishing you had bought up big and spent more money! If it's so cheap or you can't buy it at home, you should buy it – right?!
10. Melbourne, Australia
Melbourne would have to be Australia's best shopping city. When Australians want to go on a shopping holiday, they go to Melbourne – it has it all!
The endless malls and arcades that this city has, is astounding. Their main mall, Bourke Street Mall is a must, as is Collins Street. They also have the Queen Victoria Markets, which is a great place to visit for little nick-knacks, cheap leather jackets or a little souvenir.
Melbourne is a city that knows its fashion and has a great buzz and feeling about it.
9. Chicago, USA
Chicago, what a great place to shop! How could you go past a city that has a shopping area called the "Magnificent Mile" – yes, you guessed it, it's a mile ling road full of shops, and I mean full!
It's the type of city that you want to find a pub to pop the husband in and just be left to your own devices.
Chicago also has Loop's State Street and Wicker Park's boutiques, that are both are must to visit…and spend some money in.
8. Seoul, South Korea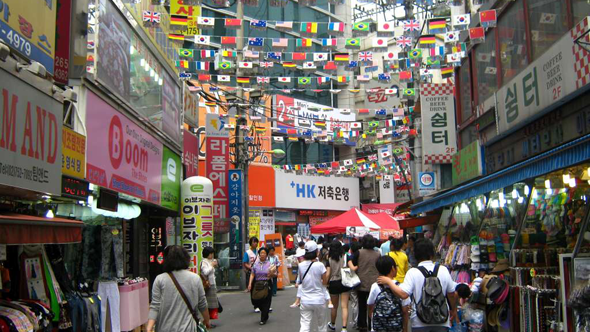 Although coming in a number 8, Seoul has great shopping, and is it any wonder, when South Korea recorded more credit card transactions per person than any other country in 2011. It is also law that merchants in Seoul accept credit cards, no matter how small the amount is – it would be like buying a bottle of water on credit card, to quench your thirst, whilst you are shopping!
One of the most popular department stores in Seoul, is Lotte. This store has a vast array of items on offer, ranging from fashion apparel, cosmetics, jewellery, electronics, groceries, duty free and much more.
Seoul is well known for its mix of old and new, when it comes to shopping.
7. Florence, Italy
Florence despite being smaller in comparison to some of the other major shopping cities, still has a lot to offer.
Apart from having a number of boutique shops, offering jewellery and the latest in fashion, the city also has some fantastic markets, where you are sure to land a bargain! These markets specialize in leather goods (what Florence is well known for). So whether it's a leather jacket, handbag, wallet or belt, Florence has you covered, and the best thing about markets, is that you can haggle and try and get them down to a better price.
6. Paris, France
Paris is all about designer and boutique shops. You don't come to Paris to buy cheap clothes that will last five minutes – you come to Paris to buy quality and brand names.
The best shopping areas in Paris a the Champs Elysee's and Lafayette. Colette is a department store that is reasonably priced and has a great range of fashion and accessories. Printemps is another must, and this shop has the largest beauty department.
Shopping heaven!
5. Kuala Lumpur, Malaysia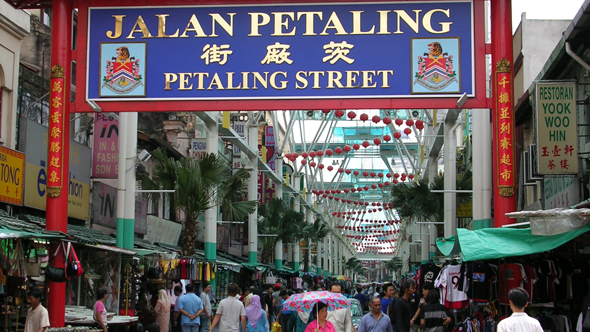 Kuala Lumpur (KL) is a great shopping destination, for a mix of the cheap bargains and top brand name buys.
Although many people see KL as a country that is a little dirty, backward or undeveloped, when it comes to shopping, they know what they are doing. The amount of money that tourists must spend on shopping in this city is amazing.
4. London, UK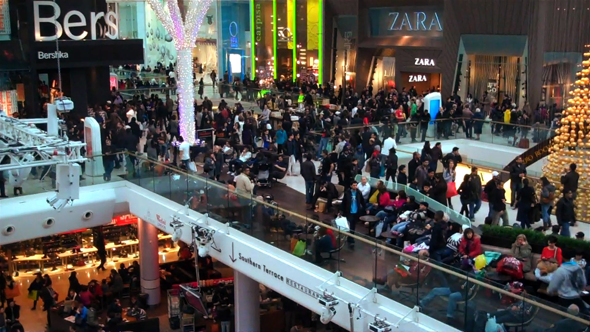 In London shops are EVERYWHERE! There are two main streets to go, so that you can shop until your heart is content. It all just comes down to whether you are there to look for bargains, or have a spend up at all the big brand and designer shops. If you are looking for the first option, you can't go past Oxford Street. If you are looing for something a little more refined and expensive, then Bond Street and Mayfair are for you. There is an in between though, which is comforting, Regent Street.
London has some great department stores to offer too, in particular Selfridges & Co, Fortnum and Mason and Harrods.
3. New York, US

New York is renowned for being a shopper's paradise! Every street is full of shops selling anything from clothes to shoes to jewellery. There are many areas that are great for shopping – Soho, Madison Avenue, Greenwich Village and Chinatown, just to name a few.
If you are looking to get away from all the mainstream shops, there is only one alternative – Fifth Avenue! Shops on Fifth Avenue include Saks shoes, Coach, Fossil, Kate Spade and many many more. Although this shopping precinct may not suit everyone's price range, you can't go past it – even if its just a window shop!
2. Hong Kong
Hong Kong is the city to purchase watches or jewellery. They are also the number one place to buy electronics – they love their gadgets!
Although the shop assistants here can appear a little pushy, they do know what they are talking about, and if a purchase is made, very rarely would a tourist be disappointed. Its also a great place to buy materials and fabrics, at very reasonable prices.
Hong Kong's shops may only be small, but don't let that deceive – you would be surprised how much stuff they can fit in such a small space.
1. Dubai, United Arab Emirates
Dubai boasts the worlds largest shopping mall in area, so is it any wonder they consider themselves up there with the best shopping options. The mall has nearly every fashion label and brand from around the world, under one roof.
Shops include American Eagle Outfitters, Havaianas, Cotton On, and all the popular big brand names like Gucci, Chanel, Fendi, Calvin Klein and Burberry.
And if you need time out from shopping for a little while, the Dubai Mall has a number of theme parks, a waterfall and an Olympic sized ice rink!
So there you have it, the top 10 spots to hit the shops and have an enjoyable and rewarding shopping experience.
There is only one thing left to do – make sure the wallet is full and the comfy shoes are on!
Let's go shopping…….