Japan is famous for its great food, rich culture and unusual quirks. But it's also home to some of the coolest houses in the world.
Buildings in Japan are viewed as temporary structures that will eventually be replaced. So unlike most other places, the typical home here depreciates over time, losing almost all its value after 15 years.
Because of that, the Japanese don't expect to sell their homes. Instead, they'll save up and build a house just the way they like it, and live in it for the rest of their lives.
Combine that with some relaxed town planning laws and a huge pool of talented architects, and the result is some amazing architectural works of art.
A word of caution: Looking at the houses below may cause severe home envy.
1. Nakameguro Slide House
Wow, where has this house been all my life?
Tucked away in the Meguro Ward of Tokyo, this 1,762 square-foot house is every kid's dream come true – it has a slide that wraps around the outer walls, so you can slide down all the way to the bottom from the third floor!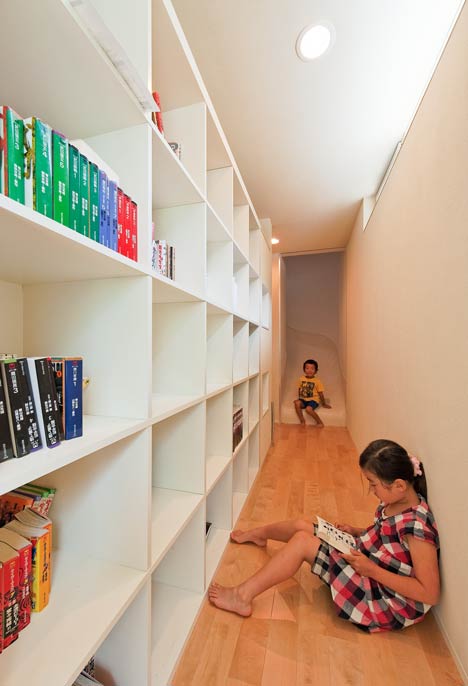 The client's brief to the designers LEVEL Architects was, "to create the house to which three children remain in memories forever."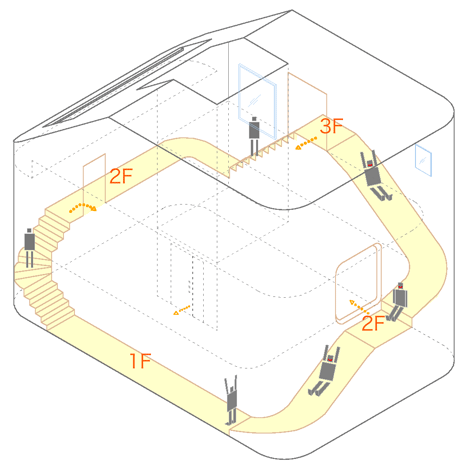 What a lucky bunch of kids – they'll grow up having some of the most epic games of catch ever.
2. Transparent "Tree" House
Dubbed House NA by its designer Sou Fujimoto, this multi-level home has three storeys that are subdivided into many staggered layers or "branches."
The underlying concept of this home is to recreate the experience of climbing up the branches of a tree, and to encourage intimacy and open communication.
It reminds me of a giant play house with lots of cosy corners to snuggle up to with a nice book. And traversing through each of the 21 "branches" of space to get up to the top floor looks like a really fun mini-adventure.
I just hope this house comes with curtains.
3. Ring House
Your first reaction to seeing this house was probably, "OMG WANT!"
And you're wouldn't be the first. When a product designer and his young family saw photos of the Ring House, they were so impressed that they bought it without ever visiting it in person.
The house, set in the forest of Karuizawa an hour's away from Tokyo, is the work of Makoto Takei and Chie Nabeshima from TNA Architects. I know who'll be designing MY dream home.
4. Moriyama House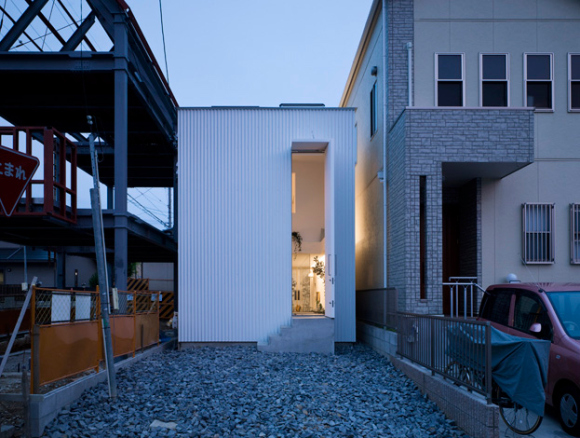 Remember the saying about not judging a book by its cover? Well, from the outside, Moriyama House may look like a plain old shipping container, but step inside, and you'll be picking up your jaw from the floor.
The house is basically a giant rock garden divided by panes of floor-to-ceiling glass partitions, with dotted with potted plants and bathed in sunlight from the gaps above.
All the day activities take place on the first floor, while the second floor houses the bedroom and a living area with a void that overlooks the centre of this small but Zen-like house.
5. Layer House
Architect Hiroaki Ohtani is a genius. This narrow 9.5 feet wide house, located near the center of Kobe, is stunningly gorgeous and brilliantly executed. Excuse me while I wipe my drool.
With unevenly stacked pre-cast concrete strips as the foundation, the house's stairs, furniture and floors are embedded in the gaps and seemingly float out from the walls. How cool is that?
The entire home is one big open space, with no internal doors aside from the toilet's sliding doors.
6. Ref-Ring House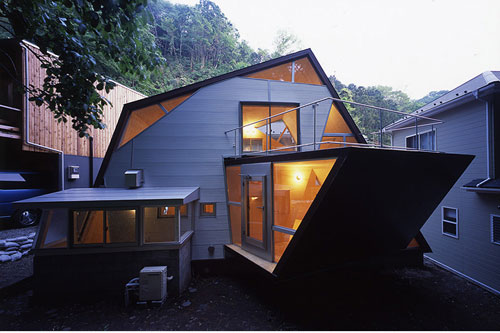 It's like a beautiful piece of origami art that you can live in, and boy, do I want to I live in it.
Ref-Ring House in the beach town of Zushi is the work of architect Atelier Tekuto, who used plenty of wood to create a warm, cozy home that interacts with all the senses.
The slanting walls makes the spaces so visually interesting and calming. It looks like the perfect for place reflection and meditation.
7. Nabari Residence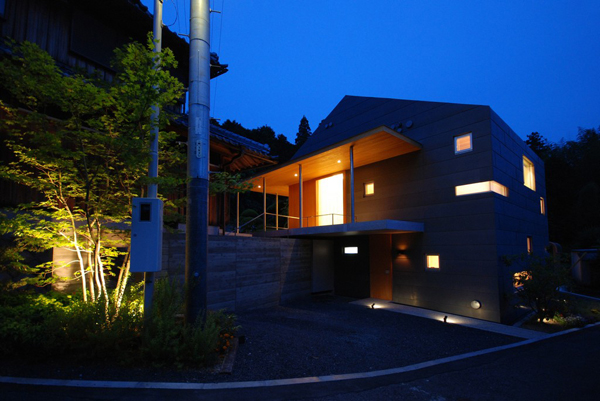 This stunning house in the city of Nabari, Japan spreads out over almost 100 square meters and is a modern Japanese-inspired residence that is designed to connect you with nature.
The home's distinctive facade is thanks to the use of titanium alloyed zinc sheets, which also serve a practical purpose – they require no maintenance for up to 50 years.
Inside, a pair of glazed wooden sliding doors open up to a gorgeous backyard. If I had to choose a home to retire in, this would be it. I love the spartan traditional Japanese style with a contemporary twist.
8. Cedar Residence
If a treehouse married Tony Stark's mansion and had a baby, it would probably look like Cedar Residence.
This beautiful and unusual house n Hiroshima, Japan is the brainchild of architect Tetsuya Nakazono from Naf Architect & Design.
Black cedar was chosen as the main material because the home is built in a traditional Japanese area with many similar cedar-themed homes and even a cedar sake distillery.
The best thing about this home is right up the spiral staircase that takes you to a terrace with an unobstructed panoramic view of the area.
9. House O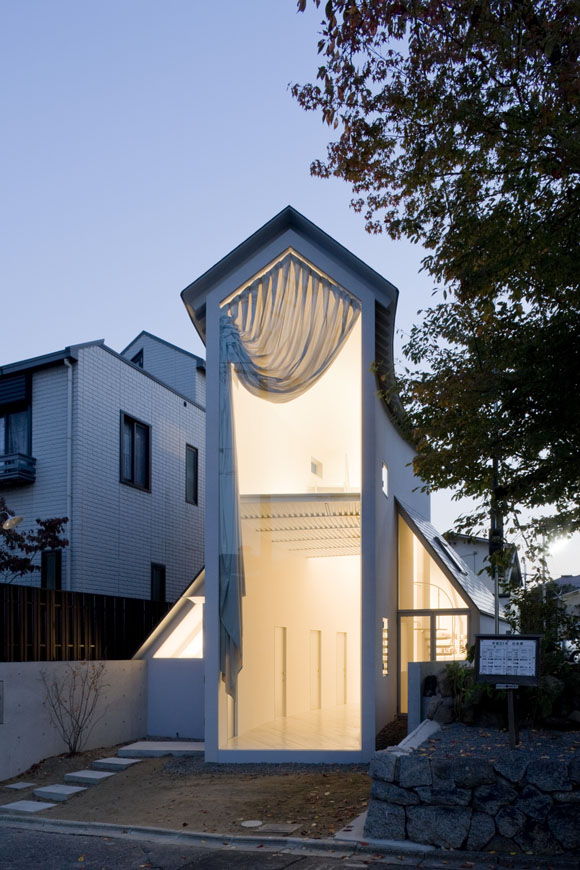 The cutely named House O by Hideyuki Nakamura could easily be mistaken for a church or bridal house.
The double-storey glass window centrepiece of this narrow home looks positively stunning draped by a curtain. It's just so grand and larger than life, and I can't help but stare in amazement.
And the inside looks incredibly cosy too.
10. Mountain House
Ok, are you ready for this? No, you can never be ready for this. Behold the Mountain House, the coolest dang mountain house you've ever seen.
This dark, handsome retreat, designed by Miurashin Architects and Associates, is neatly hidden between lush greenery on a slope in Karuizawa, Japan.
And while the stylish wood interior is warm and pleasant to the eye, it's the roof that's got me all excited – the staircase-like rooftop doubles as a viewing deck to with amazing views of the lush greenery that surrounds it.
It's the perfect place for an out-of-this world barbecue party. Awesome.