10. Glow Mural – Bali Hai Tunnels Beach Kauai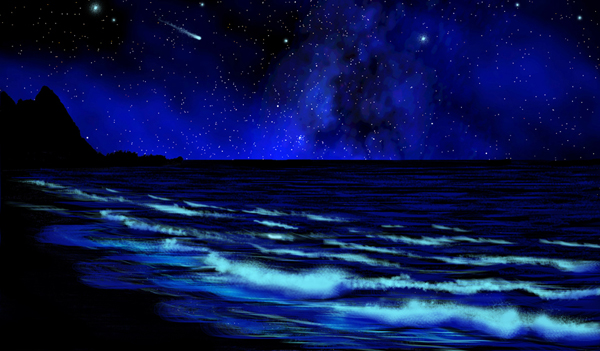 Artist Frank Wilson creates Glow Murals. To create these amazing works of art he uses rare-earth phosphors. This glow art is painted on either canvas or wood panels. The amazing thing about these, other than the beauty, is that you can't see them during the day.
Imagine the ability to transform a room from business toparty with one of these coming to life at the end of the day. This is the glow art version of the view from tunnels beach in Kauai.
9. Glow Mural – Sierra Foothills Glow In The Dark Canvas
Here is another work by Frank Wilson. This realistic depiction of the Sierra foothills almost looks 3 dimensional with the trees silhouetted against the star background. These are supposed to glow more the darker the room is. What a conversation starter.
8. Glow Mural – Above The Tree Tops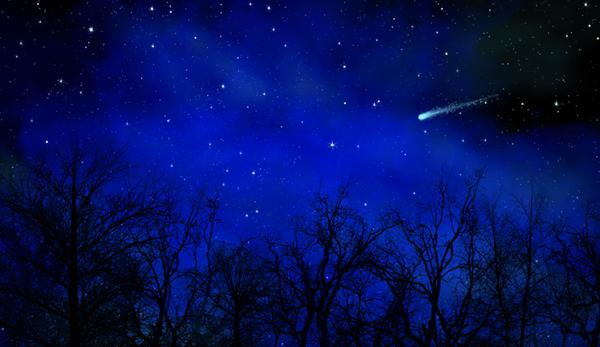 Another beauty from Frank Wilson. This one features a tree top pattern against a night sky with a shooting star. These truly are amazing. Talk about merging nature and science.
7. Glow Arts Festival Santa Monica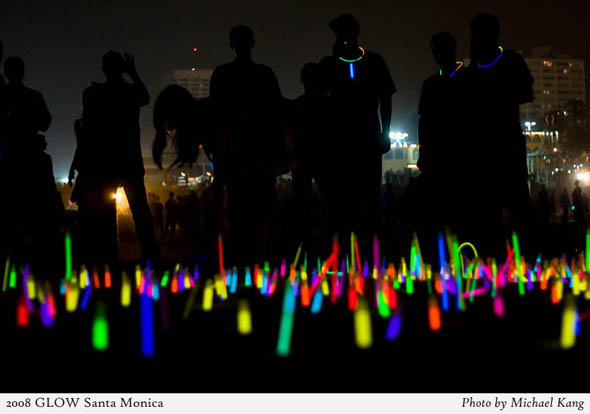 Who doesn't love the beach? Who doesn't love glow art? This festival combines the best of both worlds. This is an all night glow art festival that attracts local artists. Lights, lasers, sculptures and bubbles. There is a little something for everyone at this creative all-nighter.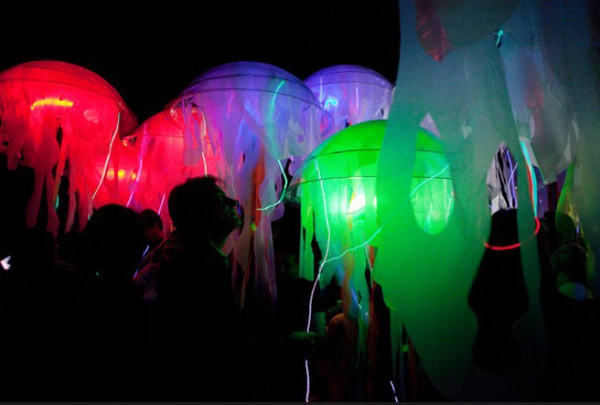 6. Black Light Glow Art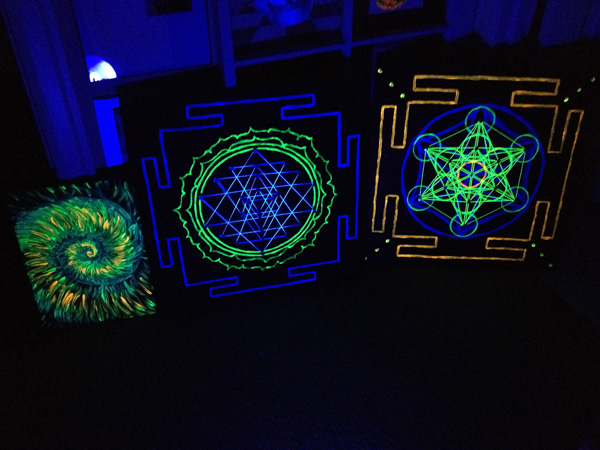 This is actually 3 pieces of black light glow art. This work is by Molly Mandelberg. The first one is created with day glow paint. The other two are created with day glow paint and florescent string. Turn on the black light and enjoy!
5. Glow Art House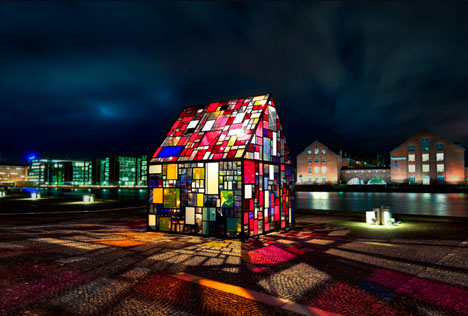 Designer Tom Fruin created this glow art house that is now located on the waterfront in Copenhagen. The New York designer created this stunning work of art with reclaimed plexi-glass.
The colored scraps are reminiscent of stained glass, but are actually designed to correspond to the multi colored lights found downtown at night. Once it is dark a light inside the house projects the bright colors into the night.
This is one is fun and environmentally friendly.
4. Glow Coke
Glow Coke is digital art by US artist Elizabeth Coats. She sells the work in prints and greeting cards.
3.Neon Luminance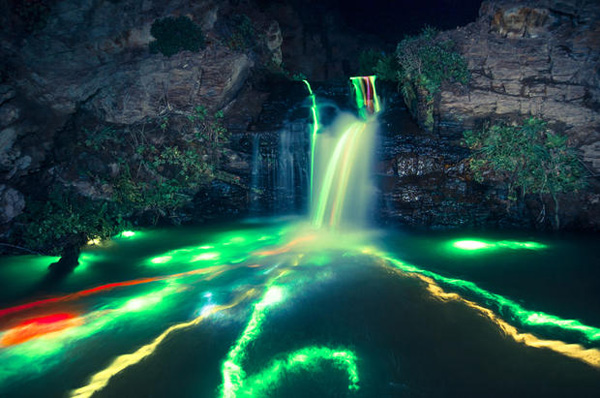 These images were the inspiration for this article. To young photographers decided to pack up their glow sticks and hit up some of the beautiful water falls of Northern California. When you combine night time, glow sticks, lasers and long-exposure photography you get Neon Luminance.
This beautiful green pool would be a wonderful serene experience to swim in during the day. At nighttime it becomes a magical neon wonderland.
2.Glow Stick Waterfall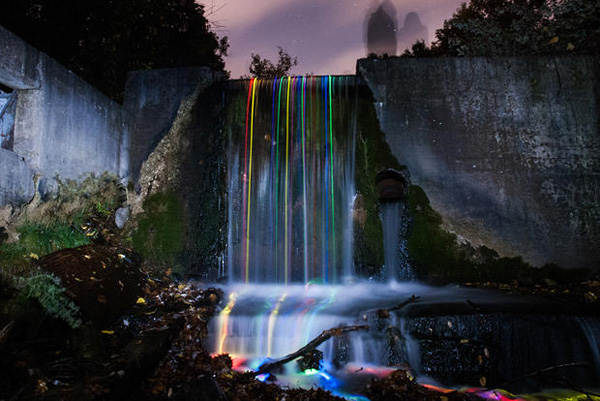 This one is like watching a rainbow fall at night. Part wonder of mother nature part outdoor rave party. Capturing these laser light trails was no easy task. The long-exposure shots took from 30 seconds to 7 minutes. Kind of like old timey photography.
1.From The Lenz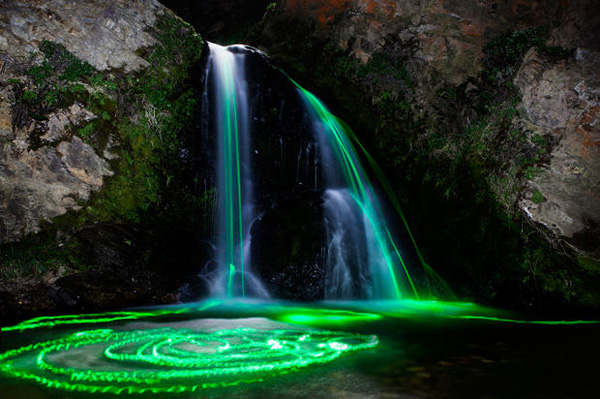 We love the rippling green whirlpool affect. Part rope light part laser light show. The things people can do with glow sticks is amazing and these young artists pushed creativity to the limit with this hit series.
From The Lenz is a multimedia production company in San Francisco run by Sean Lenz and Kristoffer Abildgaard.
These two young artists form an international with Sean being an American and Kris being Danish. Based on some of their time photographing BMX and skateboarding professionals, but the other half of their time is spent treating fine art projects.
This project has gone viral and we can see why. Sean Lenz, living in California has always admired the natural landscapes. Ocean, mountains, caves and of course, waterfalls are all within driving distance in this great State.
Loving the natural landscape and yet wanting to do something unique they decided to merge nature and sci-fi. The idea was to use glow sticks at night to sell waterfalls. They glow sticks with float so they would make the perfect medium to enhance the natural beauty of the following water.
Being young and environmental friendly they also took the time to retrieve all of the floating glow sticks that they used in the project.
One of the more dangerous aspects of this job was hiking to a waterfall at night. If you've ever been out in the woods at night you know how dark in here you can be.
When taking long exposures you have to get your settings just right. They experimented with the exposure time and the ambient light. They also experimented with dropping the glow sticks wanted a time and with releasing them all at once. Both methods worked equally well.
Another difficult aspect of this shoot, besides hiking in the dark, was going into the freezing water and retrieving the glow sticks. We think the shots are amazing and we are glad they went through all the trouble.
From the Lenz also has some other interesting projects you can check out. The Desolate Series features abandoned buildings and hotels. The Faces project captures images of faces of people on the street at night in San Francisco. Stars and Star Trails is another cool project with images of stars and nature.